Creche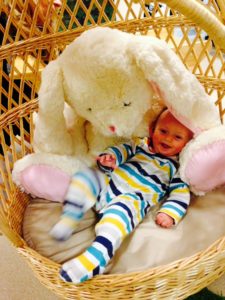 Our creche is run by our caring, nurturing and qualified staff which provides a great opportunity for children to socialise and start to become independent.  Our creche service provides ad hoc care for the children of parent who are s in need of occasional childcare.  Sessions can be booked for a minimum of 1 hour, and then additional hours thereafter.
How does the creche work?
Our Creche service operates throughout the year, Monday - Friday 8.00 - 18.00.
We are registered to provide care for 9 babies aged from 6 weeks to 2 years in our baby area, and for 34 children aged 2 to 6 years in our older area. Younger children in the baby area are able to interact with older children and can move into the older area after the age of 18 months, or as appropriate for their individual stage of development, ensuring adult to child ratios are adhered to at all times. We operate a booking system for the crèche where places are booked in advance on a first come, first served basis.  Payment is required in advance to secure your booking.
Children who arrive without pre-booked places will only be admitted if there are sufficient places and capacities in the ratios available. If a pre-booked child fails to arrive within 10 minutes of the booked space, then that space may be re-allocated. If you wish to cancel a space you must give 24 hours notice. Any cancellations not made within this time will be subject to a fee for the length of the pre-booked place.
All parents are encouraged to communicate with staff about their child and his or her needs, and are also expected to understand and comply with the Crèche operating procedures and policies.
How do I book?
Please call 01603633550 to book your space or email: enquiries@little-squirrels.com
Parent / carers will need to complete registration forms before using our service.  We recommend introducing your child to the creche and staff over a period of settle in sessions before leaving them in our care to ensure they feel comfortable and secure.  We can discuss this with you when completing your registration forms.
---
What do I need to bring?
Please bring with you suitable clothes for the weather so your child can enjoy our outside space, along with a change of clothes.
Nappies & baby wipes where applicable.
Water will be provided however please bring with you any additional drinks, snacks and food for your child during there time with us, this includes and formula milk.  Please do not bring food containing nuts into the setting.
On hot days please ensure your child has sun cream and a sun hat.
We recommend for new children that they bring a small comfort box with things that make them happy and remind them of home.  We ask that you share as much information with staff as possible about your child to allow us to provide tailored individual care.
________________________________________________
Staffing
Our creche operates to strict staff:child ratios laid out in the Early Years Foundation stage.  There will always be a level three or above qualified member of staff on shift.  All other staff will be level three trained or level two and working towards their level three childcare qualification.  All staff will be paediatric first aid trained and child protection trained ensuring safety for your child.
Maximum Staff to child ratios are as follows:
Under two years of age- 1 member of staff to 3 babies
Two years of age- 1 member of staff to 4 children
Three years of age and above - 1 member of staff to 8 children.
________________________________________________
Prices
Three Years old and above - £5.75 per hour
Two years old- £6.75 per hour
Under two years - £7.75 per hour
________________________________________________
During creche hours children are left in the care of our qualified and fully DBS checked members of staff.  For child protection reasons all other adults are not permitted to stay during these hours.  This means there will be no stay and play sessions (where parents and carers stay with their children) running during creche hours.  Parents of children using the creche facilities will not have unsupervised access to the setting during this time.