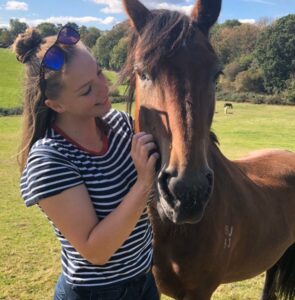 Hello Little Squirrels, I'm Rachel. You will see me most days in the baby area!
I started working at Little Squirrels in September 2019, and I absolutely love working here; all the staff are lovely and work well together to help each and every child in the setting to achieve their best.  I am currently studying towards a degree in Childhood Studies in Norwich.
I have always dreamed of working with children and babies, since being inspired by my own teachers at school. I am passionate about providing enabling and exciting environments for children to learn, develop and grow in. I feel pride and excitement when I see young children and babies reach their developmental goals, and developing their own, unique personalities.
Outside of nursery I enjoy going on long walks on the beach and in the woods with my dog 'Blue', and spending time with my friends and family. I also love spending time with my horse and horse riding (I love all animals!). I love spending time outside in the sun, and going to the beach, as well as taking many, many photos!
I hope to complete and gain more qualifications in the next couple of years, to expand my knowledge of childcare further.
What the staff team say about me:
Rachel is a great multitasker, she is always on the ball and completes task before its even needed! Great at building bonds with all the children, very creative and positive
What the management team have to say about me:
Rachel has been an awesome addition to our team, she is fun, energetic and organised. She has built great bonds with the babies and confidently carries out her job role. Rachel is kind, bubbly and full of life
Training and Qualifications 
Currently working towards BA (Hons) Childhood studies
Level 2 Health and Social Care
Food Safety Level 2
Food Allergy Training
Safeguarding
Prevent
FGM
Prevent Covid-19
Are you ready for your OFSTED inspection?
Supporting positive behaviour
Mindfulness in Nursery
Theories of Language acquisition
The importance of developing Self-Esteem
Speech, Language and communication: Definitions, typical development and impact on other areas of learning
Identification and assessment of Speech, Language and Communication Needs
The communication Environment, including the home environment and engaging parents
What is communication? - Language and Literacy for 2-4 year olds
Communication friendly settings, adult - child interaction and working with families
Literacy Learning - Reading and writing for ages 2-4 years
Language and Pedagogy.
Strategies for language development.
Selective mutism.
Developing Excellence in Maths, Literacy and Science through Children's Understanding of pattern
Managing a Critical Incident in an Early Years Setting
Bereavement awareness training
Moving in, Moving up, Moving on- Effective Transitions
English as an Additional Language
Equality and Diversity within an Early Years Setting
Black lives matter workshop
Dealing with and supporting children who bite
Early Brain Development
Characteristics of Effective Learning
Social and Emotional intelligence development in children
Theories of Learning
The importance of Play
Learning to Listen and non-verbal communication
Vocabulary Development
Understanding Spoken Language
Planning in the Moment
Language for Thinking (The Blank Language Scheme)
Exploring Language and Early Narrative Skills
Play for Language and Literacy
Developing Speech and Phonological awareness
Supporting the early stages of reading and writing
Communication friendly spaces.
Dual language learners.
Holistic development and vocabulary.