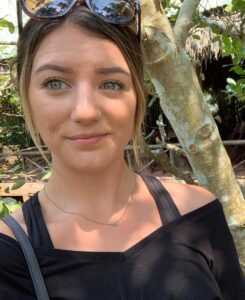 ---
Rosie
Hello! My name is Rosie
I have been working at Little Squirrels Play Forest since we opened in 2016. I have 5 years experience within the early years and completed my childhood studies degree in 2017. I will be starting my Early years teacher training in September 2020.
I love working at Little Squirrels as I am passionate about the nursery's ethos and way of teaching. I work with an amazing team who are dedicated in making sure that each child that walks through the door has the very best start in their early childhood and education.
I love working with children, following their lead, learning about their interests and ideas and seeing where their imagination takes us 🙂 to be apart of the first precious years of their childhood is an honour!
Outside of nursery I enjoy going for walks in the forest and to the beach, I love visiting cafes and drinking lots of coffee!
What the staff team say about me:
Rosie is always professional, creates a positive and caring environment
What Suzie says about me:
Rosie is such an important member of our team, and is a wonderful person for me to share the nursery with. The care and hard work she puts into the setting is amazing. She is always there ready to help whenever it is needed
Training and Qualifications 
BA (Hons) childhood studies
Child protection
First aid
FGM
Food hygiene
Safer food better business
Allergy training
Epi pen training
Seizure training
Step on
Writing support plans for children with SEND
Setting SENCO
Setting SLP
two year progress checks
Signalong
Understanding autism: the invisible condition
Understanding autism: using visual aids
Attention autism
Intensive interactions
PECs training
Sensory intergration
Inspired by babies
Boxall Profile - Emotional Development
Vocabulary Development
Understanding Spoken Language
Planning in the Moment
Language for Thinking (The Blank Language Scheme)
Exploring Language and Early Narrative Skills
Play for Language and Literacy
Developing Speech and Phonological awareness
Are you ready for your OFSTED inspection?
Supporting positive behaviour
Mindfulness in Nursery
Theories of Language acquisition
The importance of developing Self-Esteem
Speech, Language and communication: Definitions, typical development and impact on other areas of learning
Identification and assessment of Speech, Language and Communication Needs
The communication Environment, including the home environment and engaging parents
What is communication? - Language and Literacy for 2-4 year olds
Communication friendly settings, adult - child interaction and working with families
Literacy Learning - Reading and writing for ages 2-4 years
Supporting the early stages of reading and writing
Developing Excellence in Maths, Literacy and Science through Children's Understanding of pattern
Managing a Critical Incident in an Early Years Setting
Bereavement awareness training
Moving in, Moving up, Moving on- Effective Transitions
English as an Additional Language
Equality and Diversity within an Early Years Setting
Black lives matter workshop
Dealing with and supporting children who bite
Early Brain Development
Characteristics of Effective Learning
Social and Emotional intelligence development in children
Theories of Learning
The importance of Play
Learning to Listen and non-verbal communication