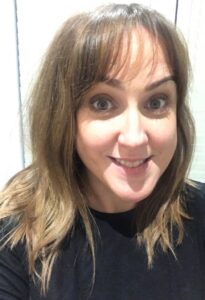 My name is Amanda, you will find me in the baby area most days. I have been a part of Little squirrel's Play Forest since January 2019 and this is a role that I truly enjoy and feel so much pride from looking after such amazing little people. I feel so inspired daily being surrounded by such a wonderful staff team that put their all into the development of each child that enters the nursery.
I am originally from Glasgow, but I moved to Norwich almost two years ago now, as my family wanted to be closer to my mother's side of the family who all live here. I spent most of my childhood in Norwich, so it's always been a place of comfort for me and I truly love calling Norwich home now.
Since a young age I always had a passion caring for babies and young children and I feel it is something I will always enjoy. It is a pleasure to provide a nurturing, fun and exciting environment for little minds to learn play discover as these early years are so precious and an important part of children's development it is so lovely that I can be a part of it.
My life outside of nursery consists of spending time with my family and friends and keeping my little girl who is 6 years old, busy and happy.
I enjoy exploring Norwich and trying out different quirky places to eat.... I love my food! I like going to different gigs as music is something, I really enjoy too.
I am working towards my Level 3 in childcare and should be finished this by the end of the 2020.
What the staff team say about me:
Amanda is always fun, so kind and caring brings a positive atmosphere to the nursery.
What the management team say about me:
Amanda is a pure delight to be around! she is always happy and bubbly and is a pleasure to work with. Amanda's care and love for the children shines through daily, she brings so much joy to our setting and she is a great asset to our team.
Training and Qualifications
Working towards NVQ Level 3 Diploma Early Years Educator
SVQ LEVEL 3 -  Health and social care (children and young people)
NCFE CACHE LEVEL 2 - understanding autism
Paediatric first aid
Inspired by babies
Child Protection
Allergy training
Epi pen training
Covid - 19 health and safety
Makaton Training
Prevent Training
FGM
Are you ready for your OFSTED inspection?
Supporting positive behaviour
Mindfulness in Nursery
Theories of Language acquisition
The importance of developing Self-Esteem
Speech, Language and communication: Definitions, typical development and impact on other areas of learning
Identification and assessment of Speech, Language and Communication Needs
The communication Environment, including the home environment and engaging parents
What is communication? - Language and Literacy for 2-4 year olds
Communication friendly settings, adult - child interaction and working with families
Language and Pedagogy.
Strategies for language development.
Selective mutism.
Developing Excellence in Maths, Literacy and Science through Children's Understanding of pattern
Managing a Critical Incident in an Early Years Setting
Bereavement awareness training
Moving in, Moving up, Moving on- Effective Transitions
English as an Additional Language
Equality and Diversity within an Early Years Setting
Black lives matter workshop
Dealing with and supporting children who bite
Early Brain Development
Characteristics of Effective Learning
Social and Emotional intelligence development in children
Theories of Learning
The importance of Play
Learning to Listen and non-verbal communication
Vocabulary Development
Understanding Spoken Language
Planning in the Moment
Language for Thinking (The Blank Language Scheme)
Exploring Language and Early Narrative Skills
Play for Language and Literacy
Developing Speech and Phonological awareness
Literacy Learning - Reading and writing for ages 2-4 years
Supporting the early stages of reading and writing
Communication friendly spaces.
Dual language learners.
Holistic development and vocabulary