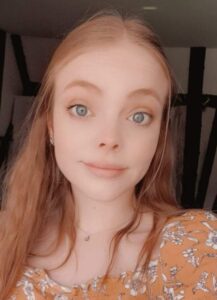 My name is courtney and you will see me most in the 2-5's upstairs area at little squirrels, I started working at little squirrels on the 2nd of January 2019.
I am just finished my Level Three Early Years Educator qualification, and have started my new role as Room Leader.
I love my job at Little Squirrels, because I find working with the children very rewarding, they always put a smile on my face, and we have an amazing team of staff.
An interesting fact about me is that I love animals, I enjoy horse riding and have two lurcher breed dogs at home.
What the staff team say about me:
Always professional and caring for the children always gets down to the children's level and demonstrates great listening. She's not afraid to join in play and be silly!
What the management team say about me:
Courtney is great! Courtney can hold a group of children's attentions with fun activities, she is always calm and caring, encouraging the children to learn from each other. She has wonderful bonds with all children and is a really valued member of the team.
Training and Qualifications 
First aid pediatrics
Child protection training
Fgm training
Inspired by babies
Effective Leadership training
Introduction to child psychology
Attachments in the Early Years
Food hygiene
Covid-19 health and safety training
Are you ready for your OFSTED inspection?
Supporting positive behaviour
Mindfulness in Nursery
Theories of Language acquisition
The importance of developing Self-Esteem
Speech, Language and communication: Definitions, typical development and impact on other areas of learning
Identification and assessment of Speech, Language and Communication Needs
The communication Environment, including the home environment and engaging parents
What is communication? - Language and Literacy for 2-4 year olds
Communication friendly settings, adult - child interaction and working with families
Literacy Learning - Reading and writing for ages 2-4 years
Developing Excellence in Maths, Literacy and Science through Children's Understanding of pattern
Managing a Critical Incident in an Early Years Setting
Bereavement awareness training
Moving in, Moving up, Moving on- Effective Transitions
English as an Additional Language
Equality and Diversity within an Early Years Setting
Black lives matter workshop
Dealing with and supporting children who bite
Early Brain Development
Characteristics of Effective Learning
Social and Emotional intelligence development in children
Theories of Learning
The importance of Play
Learning to Listen and non-verbal communication
Vocabulary Development
Understanding Spoken Language
Planning in the Moment
Language for Thinking (The Blank Language Scheme)
Exploring Language and Early Narrative Skills
Play for Language and Literacy
Developing Speech and Phonological awareness
Supporting the early stages of reading and writing